What is the weirdest flavor of ice cream?
20 Of The Weirdest Ice Cream Flavors
Ice cream is one of those foods that pretty much everyone likes. Even for all of the lactose intolerant people, there is a soy-based ice cream or water-based gelato out there that will be delicious, and not harm their digestive tract.
There are thousands upon thousands of different flavors of ice cream, and then there are different variations of each flavor. This all leads to one fact: there is quite literally a flavor for everyone. However, some people have stranger tastes and preferences than others. Not everyone likes the typical "Rocky Road" or "Strawberries and Cream." This list documents the stranger ice cream flavors from all across the globe.
Banana Curry Ice Cream
This combination of unique flavors can be found at Allium in Chicago. This cool place actually has a ton of unique ice cream flavors.
Jackfruit Ice Cream
This interesting flavor of ice cream can be tasted in Hotel Saravanaa Bhavan in India. It has been compared to the taste of Juicy Fruit gum – delicious.
White Chocolate and Rose Ice Cream
This ice cream originated in South Africa, at a place called Paul's Homemade Ice Cream, and it really is just that – homemade. He makes an incredible array of unique flavors, all from fresh ingredients.
Honey Jalapeno Pickle Ice Cream
This ice cream can be found at Sweet Action Ice Cream in Denver, Colorado. It has real pickles in it, Colorado honey, and fresh jalapenos.
Salt Licorice Ice Cream
This ice cream is a hit in Seattle, where it can be found at Molly Moon's Homemade Ice Cream. It is made from star anise and sea salt, and combines the sweet and salty for a delicious flavor.
Goat Cheese Cashew Caramel Gelato
This gelato from Black Dog Gelato in Chicago has actually become quite popular, as the goat cheese apparently causes it to taste very similar to cheesecake. They also have a ton of other unique gelato flavors, so if you're ever in Chicago, be sure to check them out!
Crammed Jammin' Cream Donut
Why has no one thought of this before? A super different ice cream that incorporates donuts…how could anything be better? This ice cream can be tasted at Tip Top Ice Cream in New Zealand.
Zen Butter
This unique ice cream can be found in Chinatown Ice Cream Factory in New York. It's made from a mix of peanut butter ice cream and sesame seeds.
Basil Avocado Ice Cream
Avocado is such a creamy, rich fruit, so it's a wonder that no one has thought of tying it into an ice cream flavor before. This delicious ice cream can be found at SoBou in New Orleans.
Sweet Corn Gelato
Who would've thought that making a vegetable into an ice cream flavor was a good idea? Well, the people at Fornelletto in New Jersey did.
Whisky Prune Ice Cream
This alcohol based ice cream can be found at Simmo's Ice Creamery in Australia. That'd be a fun way to get drunk.
Rosemary Honey Goat's Milk Ice Cream
A very strange combination indeed – herbs, honey, and goat's milk – but combined, they are incredible. It can be found at Capogiro Gelato Artisans in Philadelphia.
Tequila Ice Cream
When you think of Mexico, you think of tequila. That's where this hotel in Baja, Mexico got it right. Go to Rosewood Hotel and try some of this – preferably beside a pool.
Creamed Cod Ice Cream
Now, if there is anything you've never heard of, it's probably fish ice cream. It is such a unique idea from George's Portobello Fish Bar in London, and the platter looks just like fish and chips – but it's actually ice cream that is coated in batter and then fried.
Secret Breakfast Ice Cream
This ice cream made from bourbon and cornflakes can be found at Humphrey Slocombe in San Francisco. This ice cream shop has a bunch of unique flavors.
Cardamom Ice Cream
Yes, an ice cream based entirely off of a spice. This ice cream flavor can be found at Endomela in Acre, Israel.
Goat Cheese Ice Cream with Marionberries and Habanero
The title of this ice cream is really all-encompassing, and gives a good idea as to what the ingredients are. This flavor roller coaster can be found at Salt and Straw in Portland, Oregon.
White Truffle Gelato
This gelato can be found at Bella Gelateria in Vancouver, Canada, and is made from white truffles, and infused with black caviar, so it really stands out.
Garden Flavored Ice Cream
Fenocchio in Nice, France, has a variety of ice cream flavors that remind people of their gardens at home – fruits and vegetables – plain and simple. Lavender and jasmine is one of their most popular flavors.
Sichuan Pepper Ice Cream
This spicy and savory ice cream flavor can be tasted at Sbraga in Philadelphia. The chef at this restaurant developed a fascination with Sichuan peppercorns and found ways to incorporate them into most of his dishes.
The Weirdest Flavoured Ice Cream
Weirdest Flavoured Ice Cream Discussed by Carpigiani UK
Did you know that Ice Cream generates over £1bn for the UK Economy? We all love an ice cream, whether it's in the summer or winter and believe us the ice cream market really is booming. There has been a revolution in the ice cream world in the last few years and cafes, ice cream parlours and eateries are all coming up with some really wild and different flavoured ice cream to make your taste buds tingle. We have put together some of the Weirdest Ice Cream Flavours for you from across the world, from sweet, savoury, spicy to salty and believe us some you really would never have thought of. Take a look and see if you fancy trying any of them……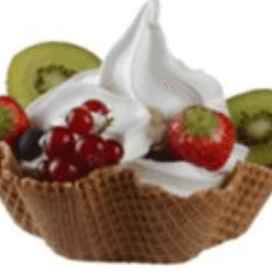 Coconut-Curry Ice Cream
This coconut-curry ice cream really is really different with its sweet coconut flavour and its spicy zing from the curry spices, along with the roasted cashews giving it a hint of saltiness. You will love it if you like a something different to the normal vanilla or flavoured ice creams.
Spaghetti and Cheese Flavoured Ice Cream
Cold spaghetti just doesn't have the same appeal as cold pizza, not that either should ever be present in your ice cream. Well, this cheese-flavoured ice cream with noodle bits comes from a shop in Venezuela that sells more than 900 flavours. This is one that wouldn't be my first choice but hey you never know, Spaghetti and Cheese ice cream could become my favourite.
Vietnamese Coffee with Frosted Almonds and Peanut Butter Curry Flavoured Ice Cream
Now, this is far from your typical morning cup of coffee. Made with decadent Blue Bottle Vietnamese-style coffee, each batch is zipped with hot curry, creamy peanut butter, and crunchy candied almonds giving it a truly out of this world Californian taste.
Black Walnut Flavoured Ice Cream
A sweet cream base which balances out the strong and earthy note of black walnuts which are very different from the mild English variety which most of us are familiar with. This one comes from Cammie's Old Dutch Ice Cream Shoppe in Alabama.
Caviar Flavoured Ice Cream
In case the silver spoon needed a weird and wonderful cold treat to dig into, then this sour ice cream featuring wild arctic char roe caviar and blueberries from New Zealand may be the one. The creators claim the ice cream is not aggressive, but rather a subtle balance of sweet and sour and not always one just for the rich and famous.
Pickled Mango Flavoured Ice Cream
Now this one is a cream cheese-based ice cream with a spicy mango sauce made of white balsamic vinegar, white pepper, allspice, and clove. Jeni Britton Bauer is constantly pushing the boundaries of unique treats, as evidenced by her lineup of limited edition flavours as proprietor of Jeni's Splendid Ice Creams based in Ohio.
Horseradish Flavoured Ice Cream
We have horseradish with our roast beef, so why not cool down that roast a bit? Organic ice cream maker Ruby Violet isn't afraid of daring flavours, and you can now try her eye-watering horseradish-flavoured option at their Kings Cross store. You can even try it with a scoop of beetroot too.
Fish and Chip Flavoured Ice Cream
In 2010 George's Portobello Fish Bar in London launched an unusual cod ice cream that came complete with potato ice cream chips. We all love 'fish and chips' in the UK and for some, it is still a Friday night treat. So would you replace your traditional fish and ships for this Fish and Chip flavoured ice cream? I'm not sure I would but I'd certainly love to try it.
Pear with Blue Cheese Flavoured Ice Cream
"Salty-sweet" is the preferred palette at Portland, Oregon-based Salt & Straw, where sugar and spice blend together nicely with flavours like Strawberry Honey Balsamic Strawberry with Cracked Pepper and Pear with Blue Cheese I think you must be getting the drift that wild and wonderful ice cream flavours really are a treat in America. Pear and Blue Cheese ice cream is a well-balanced mix of sweet Oregon Trail Bartlett Pears mixed with crumbles of Rogue Creamery's award-winning Crater Lake Blue Cheese. If you're a cheese lover then this one may be for you. Yum or not? We'll let you decide.
Guinness Flavoured Ice Cream
Now think about this, going into your favourite bar and ordering yourself a smooth, cold pint of Guinness……. can you believe it, there is now a Guinness flavoured ice cream. Bizarre I know but definitely one on my list to try. What about you?
Lobster Flavoured Ice Cream
The idea of lobster-flavoured ice cream may not turn your head and way back the idea of seafood flavoured ice cream was nothing short of extreme, however, one sweet shop in Bar Harbor, Maine, claims to be the first to create a seafood, sweet ice cream. This is where scoops of lobster ice cream are sold alongside blueberry fudge and sticky taffy at an old-fashioned tourist shop.
Porridge Flavoured Ice Cream
The Highland Folk Museum in Newtonmore, Scotland is claiming they're the first place ever to make porridge ice cream. The museum staff came up with the idea for the ice cream when trying to think of a food that fitted with Scotland's unpredictable summer weather. High Life Highland, the organisation that operates the site, said: "They imagined combining our nation's favourite breakfast dish, renowned for its warmth giving properties, with everyone's summer favourite ice cream and came up with porridge ice cream.". Absolutely genius don't you think?
The Hottest Chilli Flavoured Ice Cream
A Glasgow cafe is dishing out scoops of the world's hottest and most dangerous ice cream, it is hot that customers need to sign a disclaimer. The Aldwych Cafe and ice cream parlour have launched an ice cream special called "Respiro Del Diavolo", translated as Breath of the Devil. The frozen treat is so spicy that customers must be 18 years of age and sign a legal waiver before it is handed over the counter. Staff at the cafe even need to wear gloves when they dish out scoops. The chilli flavoured ice cream is a whopping 500 times hotter than Tabasco sauce. So, are you brave enough to give it a try? I'm not sure I am!
Ketchup Flavoured Ice Cream
Mmmm I love ketchup with my fish and chips but I'm really not sure about this one, ketchup flavoured ice cream? Well, apparently it really is a thing and an ice cream shop in Ireland who makes it says it is a firm favourite with some of their ketchup loving customers. If you love ketchup then this really could make your dreams come true and why not have a scoop with the fish and chip flavoured ice cream to make it into that traditional favourite.
Chicken Wing Flavoured Ice Cream
Japan is well-known for its obsession with wacky foods and tastes from across the world. At Ice Cream City in Tokyo, things get really weird with this chicken wing-flavoured ice cream, which is a mixture of delicious sweet and savoury flavours. When you're next in Japan then this may be one to try.
Vegan Chocolate Avocado Flavoured Ice Cream
This Vegan Creamy Chocolate Avocado Ice Cream is not only super chocolatey, it's creamy, delicious……. and its healthy for you. The avocado is the healthy fat substitute to normal ice cream which needs the fat content to give it's smooth and creamy texture and taste. The main avocado ingredient adds a lightness to the ice cream. Wow a healthy ice cream, now this is one for us all to try.
Goats Cheese Beetroot Swirl Flavoured Ice Cream
The inspiration came from Samantha Kopicko's daily meal of spinach, beetroot and goats cheese salad, which she then turned into a rich ice cream dessert, removing the spinach element from the ingredients. Made from a goats cheese base and housemade beetroot syrup, it makes it earthy and creamy and mixes sweet and savoury flavours. This weird and wonderful flavoured ice cream comes from Sweet Action Ice Cream in Denver. Another great one from America.
Gin and Tonic Sorbet Flavoured Ice Cream
You can taste this refreshing and tingly sorbet ice cream at Aunty Betty's Sweet Shop in the quant Stonehaven village in Aberdeenshire, Scotland. 'Gin and tonic' is currently a craze all over the country, so trying an ice cream in this flavour is surely a must do at some time in our lives.
Turkish Delight Flavoured Ice Cream
It's like marmite, you either love it or hate it and Turkish delight flavoured ice cream is the same. Rose Water, an extract of the flower, is used in many mid-eastern foods and desserts and Turkish Delight is one of them. So add this flavour to a cool and creamy ice cream and it will make your taste buds zing. Why not give it a try and ask yourself, do you love it or hate it?
Prosecco Flavoured Ice Cream
Just when you thought ice cream couldn't get any better, you find out there really is such a thing as Prosecco-flavoured gelato. Cold, creamy, light and fizzy you really do get a feel of bubbles on your taste buds when you try it. It really is like prosecco but in an ice cream.
Basil Flavoured Ice Cream
Basil Flavoured Vanilla Ice Cream is a perfectly sweet, creamy vanilla ice cream with a delightfully fresh, earthy basil flavour that's not overpowering. Go on you know you want to.
Coal or Charcoal Flavoured Ice Cream
So there is finally a desire for grey ice cream. It doesn't look that inviting, however, the latest ice cream sensation, dubbed "goth ice cream" on social media really is a thing. In terms of flavour, charcoal really doesn't bring much to the mix, however, when coconut, honey, vanilla and other sweet flavours are added it really does make a delicious and different ice cream to try.
Cereal Milk Ice Cream
Yes, there really is such a thing….think about the taste of the leftover milk at the bottom of a bowl of cereal. Poco Gelato in Leigh-on-Sea has put ingredients together to ensure you taste it in one of their frozen desserts. It's based on their original roasted cornflake flavour and owner Joe Donnelly has been quoted as saying, 'one day, an American lady came into our shop and told me that cereal milk was a very popular flavour back home.' 'Basically, it's a smooth ice cream tasting exactly like the milk left behind in your breakfast bowl after having some cornflakes. So, I set about making a hot infusion of cornflakes, with our custard base, before straining and churning. The rest is, as they say, history.'
Blu Top 'Carrot Cake' Flavoured Ice Cream
There are lots of cake flavoured ice creams out there now and Founder Richard of Blu Top, who scoops his ice cream from Barbara – a teeny little Piaggio Porter van – has been making ice cream into cakes for a while now and his take on carrot cake really is the best yet. He is quoted as saying, 'It's infused with cinnamon, ginger, nutmeg and cloves, and I replace all the sugar with dark brown soft sugar to give it that mellow malty vibe,', 'I then bake a huge tray of handmade carrot cake and chop it into cubes. The cake is folded into the ice cream and I pipe in hearty blobs of cream cheese frosting. Utterly delicious if you are a carrot cake and ice cream lover.
So we have given you some ideas and inspiration for some weird and wonderful ice cream flavours. Can you think of any that you would like to try that hasn't been thought of yet? There are hundreds and hundreds of the strangest flavoured ice creams out there from across the world, and more and more restaurants, ice cream parlours and ice cream experts are coming up with wildly different and weird ice cream flavours every day. What weird and wonderful ice creams have you tried over the years and which ones would you like to try?
Carpigiani UK is the leader in the Ice Cream Machinery Industry, supplying and servicing Gelato, Soft Serve and Commercial Eatery Equipment and Display Units for over 70 years. They support large and small businesses to become different from their competitors, enabling them to sell the best and highest quality ice cream to their customers. Give them a call on 01432 817320 to find out more and to start your ice cream journey with them.
9 Unusual Ice Cream Flavors to Try in Texas This Summer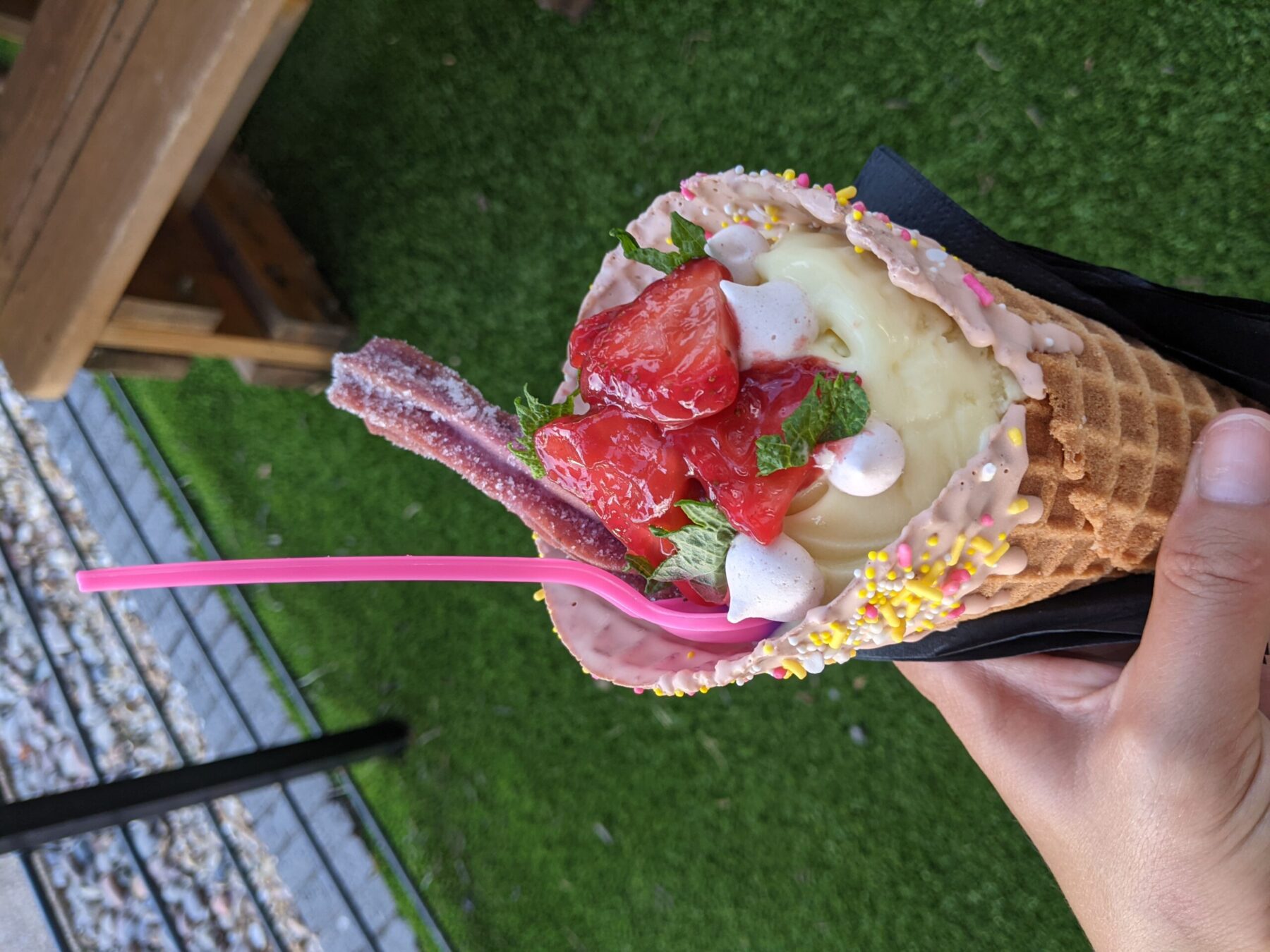 Sum Yum Yuzu ice cream cone at DipDipDip Tastu-ya. Photo by Cynthia J. Drake.
Unique ice cream flavors—though they may grab headlines—are not a modern-day invention. It's said that America's fourth First Lady Dolley Madison was partial to oyster ice cream, and that 18 th -century cookbooks included recipes for parmesan and asparagus ice creams.
Following in those avant garde footsteps, many Texas scoop shops today experiment with new and interesting flavor combinations, taking customers on a journey via cone or cup.
The resulting treats create buzz for these brands, and occasionally become long-standing customer favorites.
Shiitake ice cream
Popular Austin hotpot spot DipDipDip Tatsu-Ya offers ice cream from a take-away window next to the restaurant. Current flavors include Shroom of Doom (milk chocolate and shiitake ice cream topped with a sweet sherry vinegar sauce, fried parsnips, and hazelnuts) and Sum Yum Yuzu (black pepper and yuzu mascarpone ice cream). The Shroom of Doom tastes like earthy salted caramel, while the Sum Yum Yuzu is light, cakey, and yogurt-like with a spicy aftertaste. "We are constantly R&D-ing new things," assistant general manager Matthew Westerlund says. "I think that the Austin area is probably the best place to try anything new."
Roasted beets and fresh mint ice cream
Known for its farm-picked flavors, Lick debuted roasted beets and fresh mint as one of its original flavors back in 2011, and the flavor has stuck around ever since. "What we look for in developing a flavor is: What can we get locally? What's in season? And marrying that with the flavors of my childhood growing up in Texas," co-founder Anthony Sobotik says. The vibrant pink color has tricked more than one kid into eating a vegetable-based dessert. "Let the kids try the beet!" Sobotik says.
Golden Shogun matcha soft serve
Matcha Cafe Maiko, Houston and San Antonio
Social media-savvy patrons have been flocking to this Japanese-imported ice cream joint for the matcha soft serve topped with edible gold leaf. Matcha Cafe Maiko also launched two new ice cream flavors over the summer: ube (purple yam) and yuzu (citrus). The gold leaf topping, aside from looking shiny in photos, does not add to the flavor of the dessert, but might be worth trying for the 'Gram.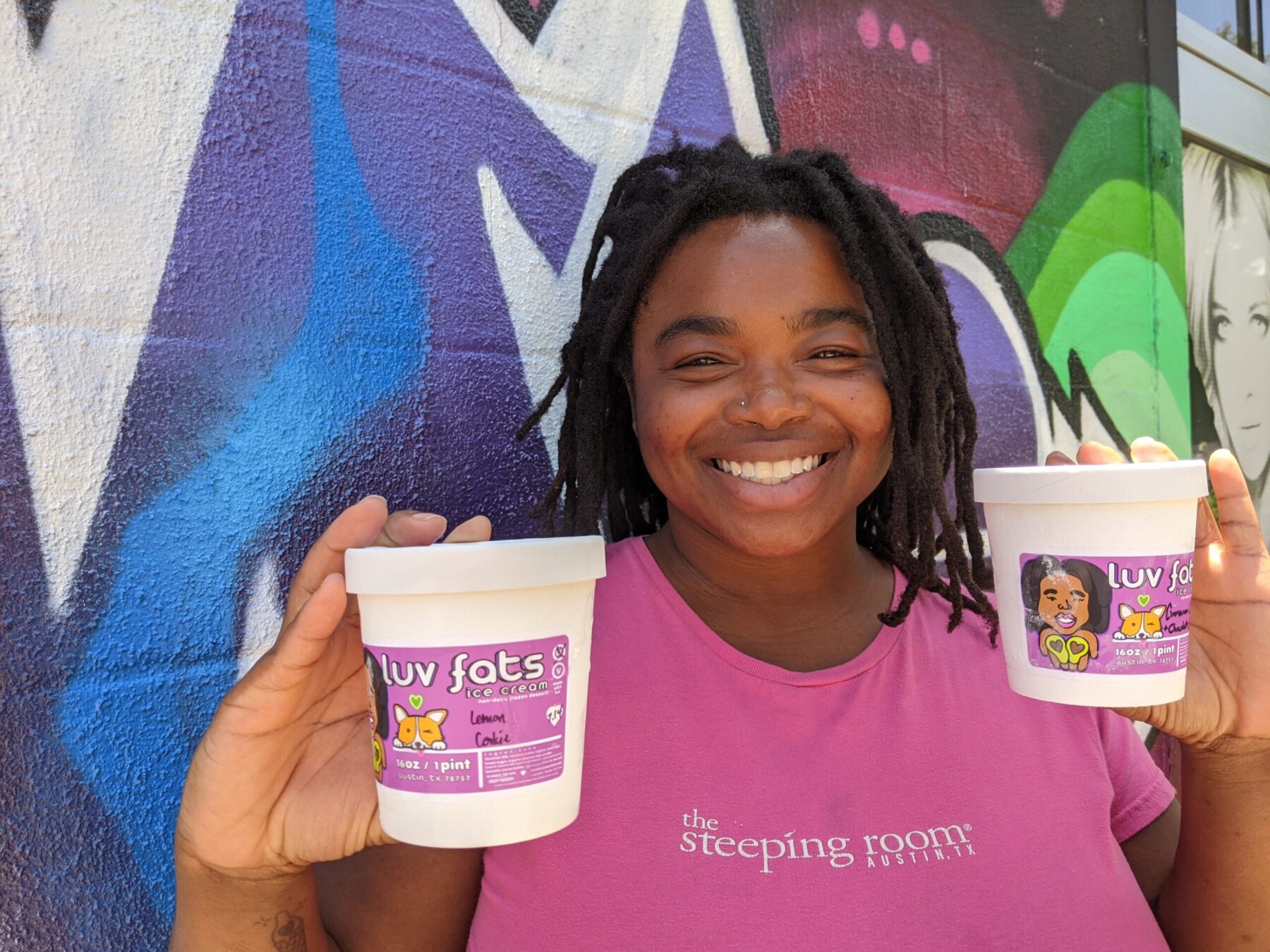 Chi Ndika with her vegan Luv Fats Ice Cream. Photo by Cynthia J. Drake.
Soy sauce vegan ice cream
Chi Ndika's vegan ice creams—made with coconut milk and avocado instead of cream—were born out of a desire to give her mother, who has a dairy allergy, some ice cream to go along with her birthday cake three years ago. Since then, Ndika's been experimenting with flavors and selling them at Austin-area farmers markets and specialty grocery stores. Her soy sauce flavor, which is an occasional offering, tastes like salty butterscotch. The soft scoopability—thanks to the silkiness of the avocados—makes the ice cream almost feel like custard.
Dr Pepper chocolate chip ice cream
The signature Texas soda takes center stage at Howdy Homemade in Dallas, birthplace of the "world's first and only Dr Pepper chocolate chip ice cream." It outsells the scoop shop's other flavors, which also includes Hot Tamale.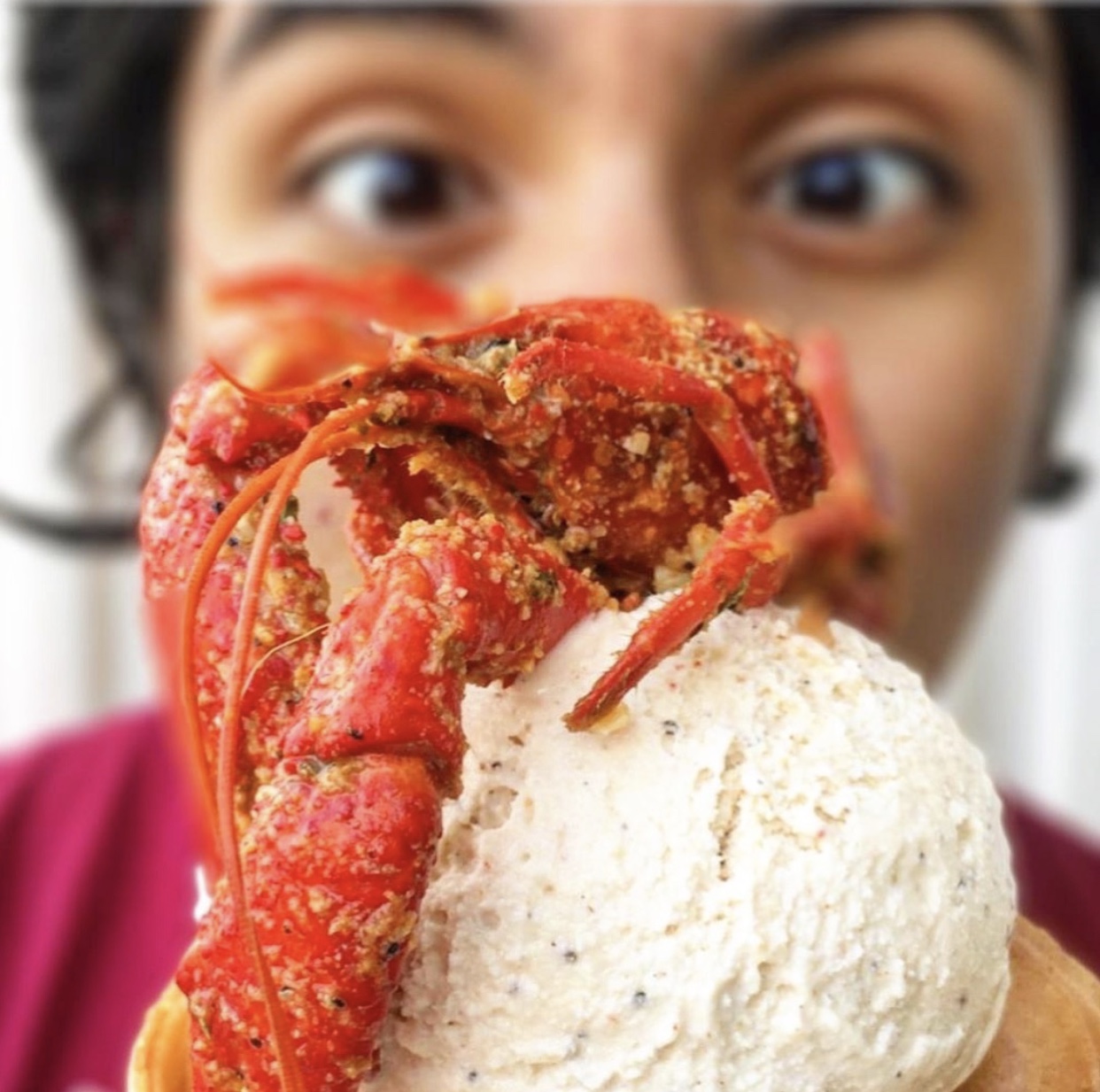 Crawfish ice cream. Photo courtesy Red Circle.
Tang ice cream
Amy's Ice Creams, Austin, Houston, and San Antonio
Amy's is no stranger to unusual ice cream flavors, from hatch chili peach to Harry Potter-inspired butterbeer. In 2019, the ice cream company celebrated the 50th anniversary of the moon landing by combining its sweet cream base with the instant powdered drink mix Tang, an astronaut favorite. It resulted in a Dreamsicle-type flavor you can still find occasionally on the specialty menu.
Milkshake and fries ice cream
Denise Eason is a one-woman ice cream operation appearing at farmers markets in McAllen and throughout the Rio Grande Valley. She and her late husband started the business in 2016, creating flavors culled from their childhood memories and travels. Milkshake and fries mimics the sweet and salty experience of dipping a french fry into a chocolate milkshake.
Crawfish ice cream
Red Circle, Houston and Pearland
"Crawfish Ice Cream Was Unfortunately Not an April Fool's Joke," read an Eater Houston headline in 2019. But Red Circle co-founder Nickey Ngo didn't waver in her dedication to enticing local taste buds with her creations. She brought her buzzy crawfish flavor back into rotation among her ice cream shop's 100 flavors (including another favorite, Hot Cheetos) a few times since then. The ice cream includes real crawfish, Cajun spices, butter, and garlic. It tastes just the way it sounds: like boiled crawfish with a sweet ice cream base.