What month has the most storms in Florida?
When Is Hurricane Season in Florida, and When Does It Peak?
Best known for its crystal clear coasts and miles of white sand, the state of Florida is also the hurricane capital of the country. Florida has been hit with 121 hurricanes since scientists began tracking them in 1851. Considering the fact that the U.S. itself has only been hit with just over 300 hurricanes since 1851, Florida clearly is a magnet for these storms. Out of the 121 hurricanes that hit the state, 38 of them were category three or higher. This means that those storms dealt massive damage because of their 111 mph or higher winds.
One of the most recent hurricanes, Ian, had the fifth strongest winds at landfall of any hurricane to hit Florida. It dealt massive damage to Punta Gorda and the surrounding coastal areas before wreaking havoc on the rest of the state. Many families lost their homes and businesses, and towns experienced flooding and damages for weeks after the storm hit.
When Is Hurricane Season in Florida? When Does It Peak?
Hurricane season is six months long, beginning June 1 and extending until November 30. A few storms have occurred before and after the season, during May and December. The majority usually take place during hurricane season, with the peak occurring from mid-August to late October.
Hurricanes that hit the state are categorized by wind speed. A tropical depression is a storm with winds of 38 mph or less. It becomes a tropical storm once the winds hit 39 mph, and is considered a tropical storm until they surpass 73 mph. At 74 mph, the storm officially becomes a hurricane, although anywhere between 74 and 110 mph is just a category one or two.
A major hurricane is any storm with sustained winds of 111 mph or higher. This includes categories three through five. As of today, the highest category for hurricanes is category five. Storms of this category sustain winds of 157 mph or higher. Some scientists have considered the idea of revising the scale to create a category six. This is because they believe there is a potential for more extreme storms to occur in the future.
How Do Hurricanes Happen?
A hurricane usually starts out as a small weather disturbance, like a tropical wave. The reason why hurricane season occurs during the warmer months is because warm water is key for creating a hurricane. After developing, the weather disturbance must travel over warm, deep water of 80°F or higher and 150 feet or deeper. This is why hurricanes normally form and grow over the ocean rather than on land masses.
While the hurricane forms, it's sucking hot air and water from the ocean below. Since warm air rises, it creates an area of low pressure underneath the storm. This low-pressure area makes more air rush underneath and rise into the storm, where it cools and forms additional thunderstorms. This is how hurricanes are able to grow so large and so quickly, especially during the warmest months of the year. The longer that the storm stays over water, the greater the chance of it becoming a major hurricane.
Preparing for a Hurricane
It's important to have a plan in place for yourself, your family, and your business before a hurricane hits. Use the state disaster supply kit checklist to begin thinking about what you'll need. Start by having a conversation with your loved ones about how you will respond in the event of a catastrophic storm. Consider how you will receive emergency notifications, where you will shelter, and how your family will communicate. Make sure to learn your evacuation route in advance, if possible.
Consider your specific household needs. Family members who take medication need to have a plan for transporting it and keeping it cool. It's important to make sure you have a plan for your pets as well, and have carriers prepared. You should have your family's important documents stored together, preferably in a waterproof case. If a hurricane is in the forecast, be sure to fill up your gas tank and be ready to evacuate. It's also good to have extra gas canisters stored at your home if possible.
Most importantly, you'll need a stash of food and water in case you have to shelter in place. Nonperishable foods will stay good for a long time, and include things like canned food and packaged foods. Beans, canned meats, and canned or dried fruits are filling and are great options for your food storage kit. You should have enough food for your household to eat for at least 7 days. Be sure to prepare water in advance as well. The guidelines for water are one gallon per person per day, and you should prepare for at least 7-10 days of water for your household. Even if the storm doesn't last for that long, flooding and damages can leave you sheltering in place for days to weeks.
If you have young children, it's worth having a stash of games and activities as well. There likely will not be power for a few days, so have flashlights and batteries, and things to keep your family occupied. Keep in mind that each household is different, so consider a plan for you and your family based on your needs. Everyone needs food, water, flashlights, and medication, but consider the things that are important for your household, and make sure you and your entire family know the plan in case of an emergency.
Up Next:
See a Gator Bite an Electric Eel With 860 Volts
See 'Dominator' – The Largest Crocodile In The World, And As Big As A Rhino
See 'Sampson' – The Largest Horse Ever Recorded
Best time to visit Florida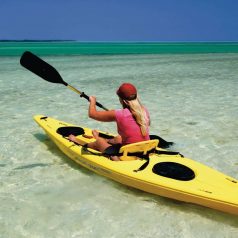 A. Florida is a year-round destination, thanks to its gorgeous weather and tourist attractions such as Universal, Sea World and Walt Disney World. However, these theme parks mean that Florida gets particularly busy in the school holidays.
Summer temperatures are at their highest between June and August, at an average of 30-35°C. The state can suffer very high humidity, of 70% or more. Winters in Florida are drier and still comfortably warm if you bring a jumper for the evenings. From early November to late May, rainfall is low and the average temperature is around 17°C, with occasional peaks of up to 25°C.
Florida can be divided into two climate zones: warm temperate in the north and tropical in the south. But it sees warm weather all year round – it is the Sunshine State, after all.
* Did you know you can save up to 40% on holiday prices? See our latest travel deals and enter your email address below to get updates every fortnight.
Southern Florida
For sun-lovers, January to April is peak season in the south of the state, which includes the cities of Miami and Naples. Rainfall averages are under 100mm a month, with temperatures around 23°C and peaking at 30°C in April.
You can also join an adults-only cruise out of Miami with Virgin Voyages which has quickly emerged as one of the most innovative and exciting new lines. See the latest offers.
During June to November, the weather can be less favourable and you may see hurricanes by the coast, for example in the Keys. Florida is one of the most tornado-prone states in the United States, and can suffer from a decrease in air quality as dust from Africa is brought in on the prevailing winds. Naturally, prices are lower.
In late spring to early autumn, the tropical south region can experience a lot of rainfall. Miami can see over 200mm of rainfall in a month, especially during September. Daily thunderstorms can arrive suddenly so be sure to check the daily forecast. The storms are intense and disappear equally rapidly, so they do not really help to alleviate the humidity.
Mosquitoes can also be a problem because of the hot and humid weather, so pack some repellent. However, if you're on the coast, you'll benefit from some cooling breezes
Northern Florida
The northern area of Florida, including Daytona Beach and Orlando, is best avoided between January and March if you're looking for a week in the sunshine. Temperatures are about 16°C so it's not ideal for a beach break.
Orlando has dozens of hotels but many Brits choose self-catering because renting a house is great value. You get lots of space and privacy and usually have your own pool.
During the school holidays, prices will be higher and the tourist spots will be busier. Check out this Luxury Florida fly-drive. In Orlando, early November may be a perfect time to visit. The queues in the parks will be shorter, and although the temperature won't be at its peak, it'll be comfortable at 23°C and the average monthly rainfall is less than 60mm. Find cheap holidays in Orlando.
Average hotel rates during November to March will be easier on the pocket, so you can fork out more at the attractions.
In the north, normally during January and February, frost and snow are rare but possible, so you'll need a jacket.
Twin-centre tours
Twin-centre trips are popular within the state, especially for families that want a mixture of culture and excitement. For an intellectual change from the rollercoasters and giant cartoon characters, pay a visit to St. Augustine, the former capital of Spanish Florida, on the north-east coast of the modern-day state.
Orlando combines really well with the beaches of Clearwater – it's only a 90-minute drive between the two. Even better is Fort Lauderdale which has superb beaches and is close to the Everglades. It's less than three hours from Orlando and an hour from Miami. Wexas has some great fly-drive holidays in Florida.
Holidaymakers who have been cruising the Caribbean regularly stop off at the Florida Keys, which offers another style of break. It has a different vibe, it's much more cosmopolitan and there's plenty to do.
Find cruises from Florida and cruises for singles sailing out of Miami or Orlando.
Monthly climate guide to Miami, Florida
| Month | Temp. (ºC) | Hours of sun | Rainfall (mm) | Sea temp. (ºC) |
| --- | --- | --- | --- | --- |
| January | 30°C | 9 | 75 | 28°C |
| February | 30°C | 9 | 50 | 28°C |
| March | 31°C | 10 | 73 | 29°C |
| April | 32°C | 10 | 132 | 30°C |
| May | 31°C | 8 | 216 | 30°C |
| June | 31°C | 8 | 172 | 29°C |
| July | 30°C | 7 | 147 | 28°C |
| August | 30°C | 7 | 188 | 28°C |
| September | 30°C | 7 | 243 | 28°C |
| October | 30°C | 7 | 228 | 28°C |
| November | 30°C | 8 | 231 | 28°C |
| December | 30°C | 8 | 198 | 28°C |
US national holidays
1 January: New Year's Day
Third Monday in January: Birthday of Dr. Martin Luther King, Jr.
Third Monday in February: Washington's Birthday/Presidents' Day
Last Monday in May: Memorial Day
4 July: Independence Day
First Monday in September: Labor Day
Second Monday in October: Columbus Day
11 November: Veterans' Day
Fourth Thursday in November: Thanksgiving
25 December: Christmas Day
Last updated: 21 April 2023
You may also like:
Best time to visit Australia
Best time to visit Tunisia
Best time to visit Brazil
Best time to visit Namibia
Best time to visit Madeira
Florida Climate Center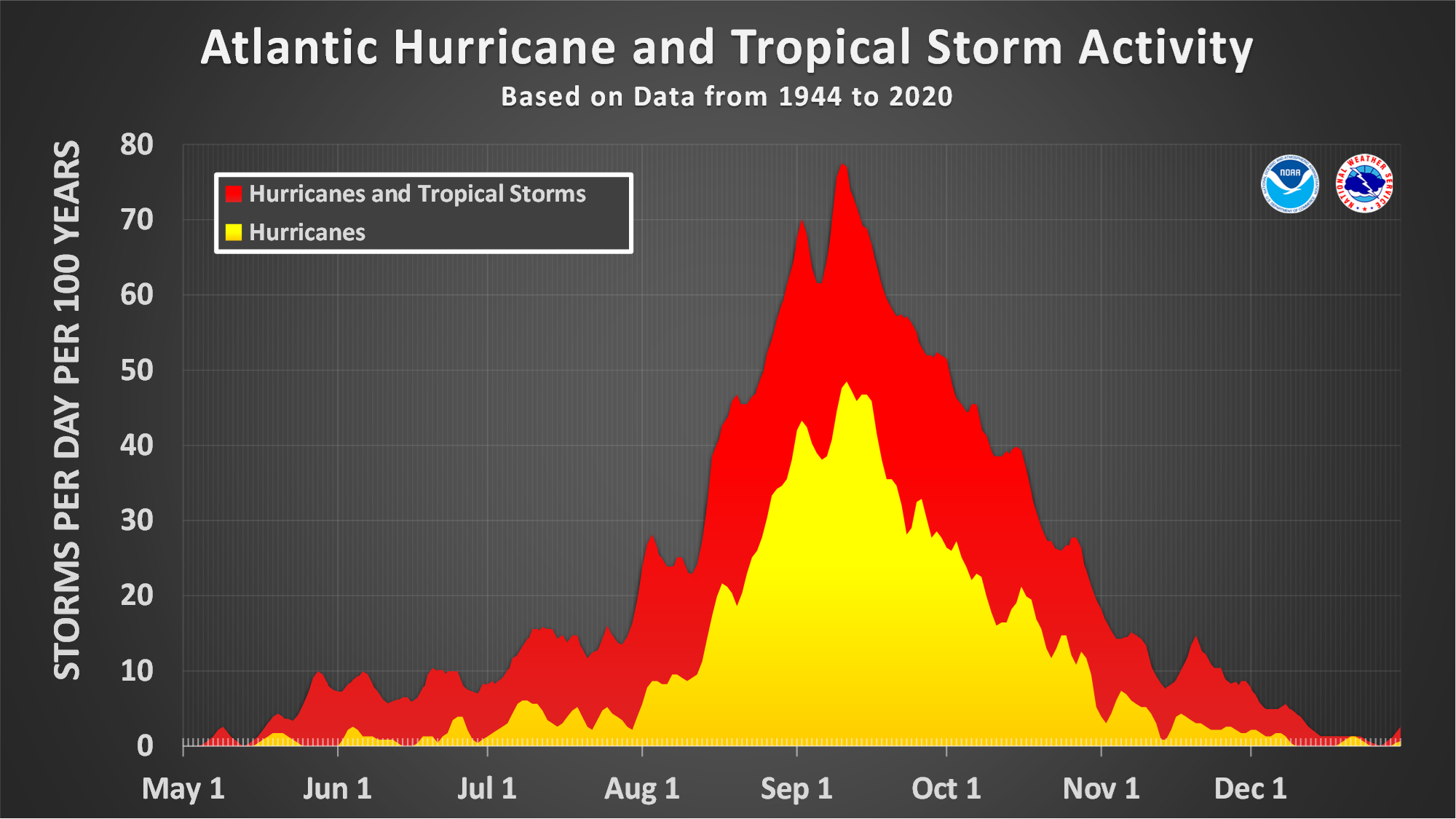 The threat of hurricanes is very real for Florida during the six-month long Atlantic hurricane season, which runs from June 1 until November 30. The peak of hurricane season occurs between mid-August and late October, when the waters in the equatorial Atlantic and Gulf of Mexico have warmed enough to help support the development of tropical waves.
A common misconception in Florida is that there are parts of the state that do not get hurricanes. Since 1850, all of Florida's coastline has been impacted by at least one hurricane. With its long coastline and location, Florida frequently finds itself in the path of these intense storms. The southeast coastline is extremely susceptible to a land-falling hurricane, followed by the panhandle. Areas around Tampa, Jacksonville and the Big Bend do not have as high of a risk of a direct strike from a hurricane but are still susceptible to a landfall each year. Even if the hurricane makes landfall elsewhere in the state, the impacts can be felt hundreds of miles away.
On August 13, 2004, Hurricane Charley made landfall around Punta Gorda, FL, as a Category 4. While the storm was powerful, the hurricane-force winds were contained to a small area.
Tropical Depression — A tropical cyclone in which the maximum 1-minute sustained surface wind is 33 knots (38 mph) or less.>
Tropical Storm — A tropical cyclone in which the maximum 1-minute sustained surface wind ranges from 34 to 63 knots (39 to 73 mph) inclusive.
Hurricane — A tropical cyclone in the Atlantic, Caribbean Sea, Gulf of Mexico, or eastern Pacific in which the maximum 1-minute sustained surface wind is 64 knots (74 mph) or greater.
Major Hurricane — A hurricane which reaches Category 3 (sustained winds greater than 110 mph) on the Saffir/Simpson Hurricane Scale.
Saffir-Simpson Scale
The Saffir-Simpson Hurricane Scale, originally developed by Herb Saffir (wind engineer) and Bob Simpson (meteorologist), was used to categorize a hurricane based on its intensity at an indicated time. The scale classified the storm on a scale of one to five based on wind velocity, central pressure and height of storm surge.
Recent hurricanes brought to light some of the issues with trying to categorize hurricanes by so many different factors. Central pressure was not routinely measured from hurricanes prior to 1990. Hurricane size (the diameter of the entire storms), along with the extent of tropical storm force and hurricane force winds, local bathymetry, and forward motion were also not taken into account with the original Saffir-Simpson scale. To help reduce the confusion of the scale, the National Hurricane Center adapted a newer version of Saffir-Simpson Hurricane Scale in 2010, known as the Saffir-Simpson Hurricane Wind Scale, in which only the peak winds are now used to categorize a hurricane.
SAFFIR-SIMPSON HURRICANE WIND SCALE
Cateogry
Winds
Damage Summary
1
74 – 95 mph
Very dangerous winds will produce some damage.
2
96 – 110 mph
Extremely dangerous winds will cause extensive damage.
3
111 – 129 mph
Devastating damage will occur.
4
130 – 156 mph
Catastrophic damage will occur.
5
> 156 mph
Catastrophic damage will occur.
*Adapted from data from the National Hurricane Center's Saffir-Simpson Hurricane Wind Scale: http://www.nhc.noaa.gov/pdf/sshws_table.pdf.
Impacts
Winds are the most well-known impact from tropical storms and hurricanes. The highest winds occur just outside of the eye (or center) in a region known as the eye-wall. Hurricane force winds can easily damage or destroy mobile homes and other non-permanent structures, often moving them well away from their foundations. Roofs, trees and power lines are also frequently damaged by hurricane force winds. Because of Florida's flat terrain, strong winds do not rapidly weaken after the storm makes landfall. Hurricane Charley in 2004 moved through the state at 25 mph (nearly twice the typical speed of a landfalling hurricane) and brought hurricane-force winds to Orlando, which was nearly 100 miles away from the point of landfall. The strongest hurricanes can have winds in excess of 155 mph.
Storm surge is the term used to describe the wall of water that is pushed toward the shoreline as a hurricane moves onshore. Storm surge combines with the local tide and the battering wind-driven waves to push a large volume of water onto the shore, often resulting in significant damage. In the strongest hurricanes, this storm surge can be as high as 25 feet above normal water levels. The combination of the rising water and pounding waves is often deadly. Approximately 90% of all deaths in hurricanes worldwide are caused by drowning in either the storm surges or flooding caused by intense rainfall. Those living in coastal and near-coastal communities should know if or in which evacuation zone they reside, as well as the elevation of their property.
If local officials declare an evacuation for your area, move to the nearest evacuation destination outside of the declared zone. You may choose to stay with friends/relatives, at a hotel/motel or at an evacuation shelter.
Flooding from tropical cyclones is not correlated with the intensity of the system but instead with the relative speed of the storm. Slow-moving tropical storms and hurricanes often produce large amounts of rain, which can lead to significant flooding at inland locations. Flooding impacts can occur hundreds of miles away from the center of a storm or from the remnants of a former tropical system.
Flooding from torrential rains can produce a lot of damage. Hurricane Easy in September 1950 dumped an estimated 38.70" of rain on Yankeetown, FL, in a 24-hour period. This amount cannot be counted as an official observation since it was estimated, so the official 24-hour state record rainfall amount (23.38") came from the outer bands of Hurricane Jeanne in 1980.
Tornadoes associated with tropical systems typically form in the right front quadrant of the storm, relative to the direction of forward motion. If you were looking at the storm like it was a clock, this would be the area from about noon to three o'clock in the direction the storm is moving. While not normally as intense as tornadoes produced by non-tropical severe thunderstorms, these tornadoes often move very fast, at speeds over 50 mph. Another common area of tornadoes in a hurricane is in the far outer rain bands, which can be hundreds of miles away from the center of the storm.
Climate Change and Tropical Cyclones
Coastal flooding from storm surge is expected to increase regardless of changes in storm intensity due to future sea level rise (high confidence).
There is agreement between theory and model projections that flooding rain associated with hurricanes will become more hazardous. It is more difficult to evaluate historical trends in hurricane rainfall, but a notable trend of slower-moving storms has recently emerged.
While the mean intensity of hurricanes has not changed significantly in the past, warmer oceans raise the ceiling for intensity. A larger proportion of storms have reached major hurricane (Category 3-5) strength in recent years, along with an increase in rapid intensification events.
The locations where hurricanes reach their peak intensity has shifted away from the equator poleward and toward the west, or closer to land in the Atlantic basin, with other regional changes in hurricane tracks observed. Theoretical explanations for this behavior are a topic of ongoing research.
There is relatively low confidence in projections of future tropical cyclone frequency, and work is ongoing to understand what sets the global number of tropical cyclones each year.
Read the full report on our special reports page, or directly here.
Preparing for a Hurricane
There are a variety of lists to help you prepare for the upcoming hurricane season. The Florida Department of Emergency Management has come up with an interactive website to help you tailor these lists to your own household or business needs. Please take the time to go through the tool and make sure you're prepared.
Create a Hurricane Plan for:
SOME NOTABLE HURRICANES IN FLORIDA'S HISTORY
Storm
Date
Category (at time of impact)
Landfall
Great Miami Hurricane
1926
4
South Miami
Lake Okeechobee Hurricane
1928
4
Jupiter
Labor Day Hurricane
1935
5
Craig Key
Unnamed
September 1947
4
Pompano Beach
Unnamed
August 1949
4
Palm Beach Shores
Hurricane Easy
September 1950
3
Cedar Key
Donna
1960
4
Naples
Betsy
1965
3
Florida Keys
Eloise
1975
3
Bay County
Andrew
1992
5
Homestead
Opal
1995
3
Pensacola Beach
Charley
2004
4
Punta Gorda
Ivan
2004
3
Gulf Shores, AL
Jeanne
2004
3
Hutchinson Island
Dennis
2005
3
Santa Rosa Island
Wilma
2005
3
Cape Romano
Hermine
September 2016
1
Alligator Point
Irma
September 2017
4
Cudjoe Key
Michael
October 2018
5
Mexico Beach, Tyndall Air Force Base
Sally
September 2020
2
Gulf Shores, AL
Ian
September 2022
4
Cayo Costa, FL
Nicole
November 2022
1
near Vero Beach, FL