What percentage of London is white British?
2021 Census ethnicity language nationality and religion
Data on ethnicity, language, national identity and religion from the 2021 census was published by The Office for National Statistics on 29 November 2022. This report summarises the main points of the data for Luton.
The overall population of Luton increased by 22,000 people between 2011 and 2021, a rise of 11 per cent.
The 2021 census showed that the population of Luton now has a non-white majority with 54.8 per cent of the population being non-white.
Luton is one of four authorities outside of London with the majority of the population being from ethnic minority groups. Slough has the largest non-white population at 64.1 per cent with Leicester at 59.1 per cent, Birmingham also having an ethnic minority majority of 51.4 per cent of the population.
White British make up 31.8 per cent of the population of Luton compared with 74.4 per cent nationally.
The percentage of people with English as their first language in Luton is 76.5 per cent which is one of the smallest proportions in the country.
Of the population of Luton, 74.9 per cent have a UK identity compared with 88 per cent nationally.
The number of people reporting as Christian is still the largest group in Luton but the number of Christians fell by 11.4 per cent from 96,271 in 2011 to 85,297 in 2021.
The numbers of Muslims increased from 49,991 to 74,191 in the last decade, an increase of 48.4 per cent.
The population of Luton now has a non-white majority with 54.8 per cent of the population being non-white. Luton is one of four places outside of London with the majority of the population being from ethnic minority groups.
Slough has the largest non-white population at 64.1 per cent, Leicester is 59.1 per cent with Birmingham also having an ethnic minority majority of 51.4 per cent of the population.
White ethnicity (including other than White British) remained the largest high level ethnic group but the numbers have fallen since 2011, from 111,079 to 101,798. The white ethnic group makes up 45.2 per cent of the population of Luton meaning there is a non-white majority in the town.
The next largest ethnic group is Asian which increased from 60,952 in 2011 to 83,325 in 2021. The Asian group makes up 37 per cent of the population of Luton. The Black ethnic group is now 22,735, increasing from 19,909 in 2011. The Black ethnic groups makes up 10.1 per cent of the population of Luton.
Luton's overall population increased by 22,000 between 2011 and 2021. Table 1 shows that the proportion of White British in Luton is now 31.8 per cent which is 71,532 people. The number of Asian British people at 83,325 is now larger than the number of White British in the town.
The Other White category which includes people from Eastern Europe is now 24,560, the increase being driven by the number of Romanians who have settled in the town over the last decade. Luton is a 'super-diverse' town with numerous ethnic minority groups.
In Luton the percentage of people with English as their first language is 76.5 per cent. This is 165,995 people. The authority with the smallest proportion of people whose first language is Newham with 65.4 per cent. Outside of London only Slough and Leicester have a larger proportion of people whose first language is not English
Of Luton's residents:
8,714 have Urdu as their first language (3.9 per cent)
7,823 have Polish as their first language (3.5 per cent)
7,455 have Romanian as their first language (3.3 per cent)
6,311 have Bengali as their first language (2.8 per cent)
Panjabi, Gujarati, Tamil, Arabic, Italian and Lithuanian are also widely spoken in the town
The census recorded over 100 different languages other than English as people's main language
In Luton 20.5 per cent of the population cannot speak English well and 3.6 per cent of the population cannot speak English. This is larger than the national figure for England and Wales of 17.1 per cent and 3.1 per cent respectively.
The census question on national identity was introduced in 2011 because of increased interest in 'national' consciousness and a demand for people to be able to acknowledge their national identity. The question allows respondents to select all identities that apply. The term 'only' is used throughout the article to refer to respondents classified with a single national identity.
74.9 per cent of the population have one or more UK identity compared to 88 per cent nationally.
3 per cent have a UK and a non UK identity compared to 2 per cent nationally.
22.2 per cent have a non UK identity compared to 10 per cent nationally.
The number of people reporting as Christian is still the largest group in Luton but the number of Christians fell by 11.4 per cent from 96,271 in 2011 to 85,297 in 2021. The numbers of Muslims increased from 49,991 to 74,191 in the last decade, a rise of 48.4 per cent. The number of people with no religion increased from 33,594 to 39,580 in the last decade, a rise of 17.8 per cent.
When compared with England and Wales there is a larger proportion of Muslims in Luton, 32.9 per cent compared with 6.5 per cent. There is a smaller proportion of Christians, 37.9 per cent compared with 46.2 per cent and people with no religion, 17.6 per cent compared with 37.2 per cent.
More census analysis will be added to the Luton information observatory page as data is published.
What percentage of London is white British?
The Office for National Statis­tics released ward level popu­la­tion figures from the 2011 census on 30 January 2013, broken down by religion and ethnicity.
Popu­la­tion
Local govern­ment bound­aries are usually drawn so as to include roughly the same number of voters in each of a borough's wards, so not much can be inferred from the total number of residents of any indi­vidual ward at one point in time. However, changes in ward popu­la­tions between 2001 and 2011 are sometimes revealing.
Very few London wards have expe­ri­enced a decline in popu­la­tion. Those that have are either out in the sticks (like Biggin Hill or Selsdon) or in the very wealth­iest central parts (such as Hans Town and Brompton). In the latter case, these local­i­ties are tending to get even wealthier and an increasing number of prop­er­ties may not be their owners' primary places of residence.
The only working-class, inner-city locality to have undergone a popu­la­tion decline is Walworth, where ambitious rede­vel­op­ment schemes have been preceded by wholesale 'decanta­tion' of residents from blocks of flats scheduled for demolition.
The fastest growing places have been West­min­ster's Church Street ward and Tower Hamlets' wards of Millwall and Blackwall & Cubitt Town. Between them, the latter pair cover the whole of the Isle of Dogs – where mountain ranges of apartment blocks have been erected in recent years. Church Street's growth, however, seems to have resulted from increases in household size: this is now a very over­crowded locality.
Ethnicity and nationality
Already one of the world's most cosmopolitan cities, London has gained even greater diversity over the past decade.
Quite a few wards in boroughs like Havering, Bexley and Bromley had a 90 or even 95 per cent white British compo­si­tion in 2001. Now, no ward in London is 95 per cent white British and only four remain above 90 per cent: Bromley's Biggin Hill and the extra­or­di­narily rural Darwin (centred on Downe) and Haver­ing's Upminster and Cranham.
Dollis Hill has the greatest number of Irish residents of any ward in London, followed by Mapesbury, Fryent, Kilburn and Willesden Green, all in the London Borough of Brent.
The wards with the largest Indian commu­ni­ties are Ealing's Southall Green and Southall Broadway and Brent's Wembley Central and Alperton. There are, however, signif­i­cant differ­ences between those two boroughs' Indian commu­ni­ties. In Ealing (Southall), Sikhs are the largest religious group, though there are also many Hindus and Muslims. Brent's strongly Indian wards are mainly Hindu, with rela­tively few Muslims and very few Sikhs.
Redbridge's Loxford ward – located between Ilford and Barking – has the greatest number of residents of Pakistani birth or descent. Neigh­bouring Clementswood ward comes next. After those come three wards on the east side of Newham.
Members of the Bangladeshi community over­whelm­ingly choose to live in Tower Hamlets or, failing that, Newham. In Tower Hamlets' wards of St Dunstan's and Stepney Green, Shadwell, Bromley-by-Bow and Bethnal Green South more than 40 per cent of residents are of Bangladeshi heritage.
The ward of Thames­mead Moorings has by far the most residents of black African descent. Peckham, which used to top that list, now comes second.
Croydon's Thornton Heath has the most residents of black Caribbean descent, followed by Lewisham's Catford South and Croydon's Bensham Manor (which is actually just more of Thornton Heath). Next come two of the better known centres of Caribbean culture: Lambeth's Cold­har­bour ward (in Brixton) and Brent's Harlesden.
As in many parts of Britain, London has a growing number of residents of mixed ethnicity, espe­cially south of the river in the boroughs of Lambeth, Lewisham and Croydon. The latter's adjoining wards of Woodside and Selhurst have the highest popu­la­tions in the 'mixed/multiple ethnicity' group, of whom most are of mixed white and black Caribbean parentage.
No longer drawn to Soho or Little Italy, except perhaps for Sunday worship, London's Italians are inclined towards the streets north of the Fulham Road, espe­cially those in West Bromp­ton's Redcliffe ward, which has many residents from elsewhere in conti­nental western Europe too. The adjoining Court­field ward and West­min­ster's Lancaster Gate also have marked concen­tra­tions of western Europeans.
Enfield and Haringey consti­tute London's Turkish heartland. All the top 20 'most Turkish' wards are in those two boroughs and Edmonton is the capital of London's Ottoman empire.
Only one ward in London has more than a thousand residents of Greek or Greek Cypriot origin: Enfield's Palmers Green. Cock­fos­ters, also in Enfield, and Barnet's Brunswick Park have the next largest Greek populations.
West­min­ster's Hyde Park ward has London's largest Arabic popu­la­tion, followed by the neigh­bouring Church Street ward, which also has a Kurdish community.
Main­taining a tradition that dates back more than half a century, Ealing is by far the most popular borough for London's Polish community. Nine of the top ten 'most Polish' wards are in Ealing – mostly in the borough's northern sector – with Perivale at the top of the list, followed by Greenford Green. This author once boarded a break-of-dawn Polish minibus service from Ealing Broadway to Stansted airport: the tour of pick-ups in and around Greenford took longer than the entire remainder of the journey.
Wandsworth's Thames­field ward – which takes in the part of Putney lying north of the Upper Richmond Road and the north-west corner of Wandsworth itself – has the most Australians and New Zealan­ders. It's followed by East Putney and the Battersea wards of Northcote and Shaftes­bury, all in the London Borough of Wandsworth. Clapham, Balham and Shep­herd's Bush are also antipodean hotspots.
In the London Borough of Kingston upon Thames, New Malden's two wards (Beverley and St James) have London's greatest numbers of Koreans. The next four 'most Korean' wards are all near neigh­bours of New Malden.
London's Nepalese community has plumped for Plumstead. While most of the capital's wards have fewer than ten Nepalese residents, Plumstead has 1,687 and the adjacent Glyndon ward has another 1,093. These two wards, which account for 0.2 per cent of London's total popu­la­tion of 8.2 million, have 13 per cent of the city's Nepalese (including Gurkhas).
Other distinc­tive ethnic demo­graphics in brief:
London's Gypsy/Traveller community is small; it is most heavily concen­trated in Bromley's wards of Cray Valley East and West
Hanger Hill has the most Japanese residents
The greatest numbers of Chinese are to be found on the Isle of Dogs and in Blooms­bury and neigh­bouring King's Cross; many in the latter local­i­ties are presum­ably students
The top three wards for Latin Americans are Kensal Green, Willesden Green and Oval (Kennington)
Stone­bridge has London's largest Somali community
Barking & Dagen­ham's Gascoigne ward has the most Albanians
Filipinos favour Catford
Estonians, Latvians and Lithua­nians have grav­i­tated to the southern and western wards of Newham
Harrow's wards of Roxbourne and Rayners Lane have the greatest concen­tra­tions of Tamils
North Americans come together in West­min­ster's Abbey Road
The City of London's tiny Queen­hithe and Tower wards have the highest percentage of Russians, followed by West­min­ster's Knights­bridge and Belgravia ward
Newham's Wall End has the most residents of Sri Lankan descent
Religion (or lack of it)
The five least religious wards are all in the same neck of the woods: Haringey's Stroud Green, Crouch End and Muswell Hill and Hackney's Clissold and Stoke Newington Central. In heathen­most Stroud Green 42.7 per cent of residents declared that they followed no religion, compared with 36.5 per cent who professed Chris­tianity, 11.4 per cent who were adherents of other religions and 9.4 per cent who chose not to answer the question. Sixth in the irre­li­gious league is the City's Alder­s­gate, where John Wesley felt his heart strangely warmed and went on to found what became the Methodist Church in nearby City Road.
The most religious wards are Ealing's Southall Green and Southall Broadway, where only 2 per cent of residents have no faith and Sikhism is at its strongest.
London's most Christian locality is Upminster, where 75 per cent of residents stated their adherence to that faith.
London's most Muslim wards generally corre­spond with those where the Pakistani and Bangladeshi commu­ni­ties are most numerous, and are all in east London: St Dunstan's and Stepney Green, Green Street East and West, Loxford, Little Ilford, Shadwell and Bromley-by-Bow.
The capital's Jewish community favours Barnet above all other boroughs, espe­cially the wards of Golders Green, (Hampstead) Garden Suburb, Hendon, Edgware and Finchley Church End. After these five, the largest numbers of Jewish residents are to be found in Hackney's wards of Spring­field and New River, which take in Stamford Hill.
Barnet's Mill Hill – for centuries home to religious noncon­formists of many shades – has the most Zoroas­trians, but there are only 36 of them here, repre­senting 0.2 per cent of the ward's total popu­la­tion. The faith has 34 adherents (0.3 per cent of a smaller popu­la­tion) in Harrow's Rayners Lane ward, where a former cinema has been converted into a Zoroas­trian centre.
A few other notable religious demographics:
Lewisham's Evelyn ward (in Deptford, which has a signif­i­cant Chinese presence) has the most Buddhists
Adherents to India's Jain faith are espe­cially concen­trated in Kenton
Brockley has the most Jedi Knights (122)
Barnet's East Finchley has the most Taoists, all eleven of them
Lambeth's Brixton Hill has the most Voduns, but that's only four, which could possibly be just one household
Changing distributions of London's ethnic minority communities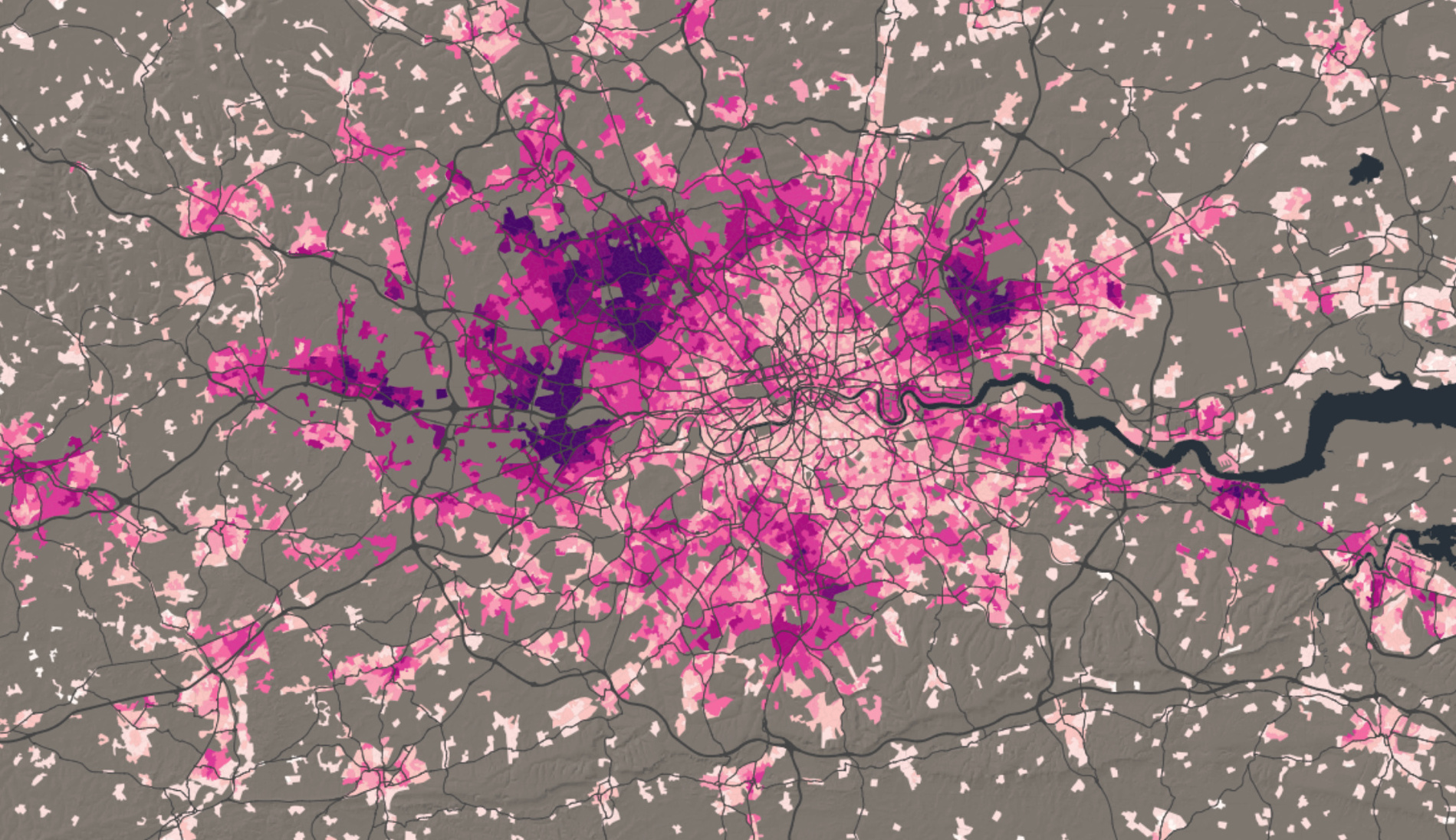 Variations in British Indian proportions in London
We usually find out about the changing ethnic composition of London's neighbourhoods (and those of other places) using Census of Population data, but these are only collected every 10 years – and the last time was 2011. The strength of Census data is that they are made available for very small Output Areas, typically comprising 100 households and 250 individuals in urban areas. Census data record the ways in which people describe their household's ethnicities, and these descriptions are aggregated into a dozen or so categories by the Office for National Statistics.
There are other ways of ascribing ethnicity to individuals and households. One that has been successfully developed by the Consumer Data Research Centre (CDRC), is to examine the associations between the given and surname of an individual and their ethnicity. This method makes it possible to predict probable ethnicity at the level of the individual. The CDRC uses nationwide lists of names and addresses, obtained from administrative and consumer sources, to predict ethnicity, and then aggregate the results to small neighbourhood scales.
The CDRC has compiled name and address data into national databases for every year from 1997 until the present day. As a result, it is possible to view the aggregated results on CDRC Maps, and view the kaleidoscope of neighbourhood change that has occurred over the last 20+ years. It is important to make clear that these results are only as good as the assumptions that were used to link names to ethnicity – and some groups, such as Black Caribbeans, are easily confused with the larger White British population – but CDRC researchers check our estimates with those recorded in census's for the small number of years for which data are available.
In the case of London this approach allows us to create highly granular, annually updated neighbourhood measures of neighbourhood composition where examples of change are very difficult to infer from Census data alone (see case studies below).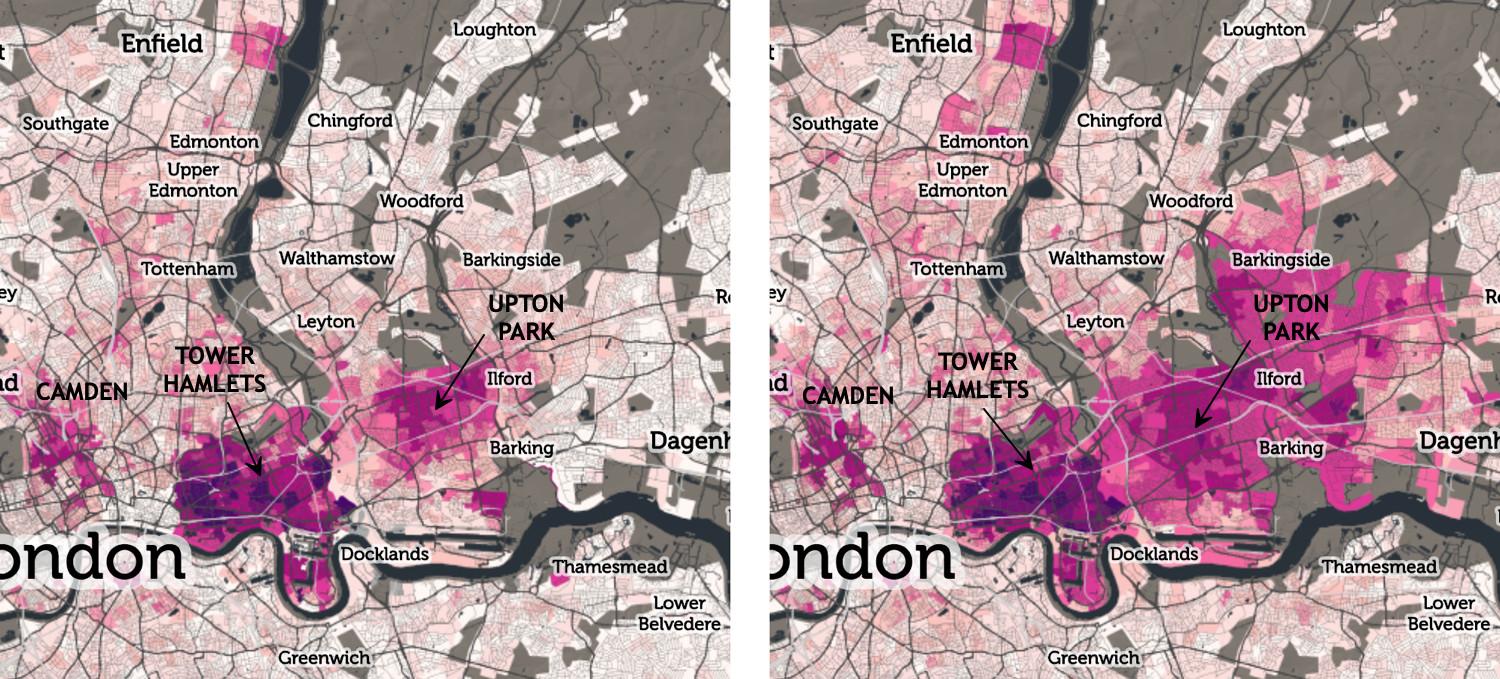 Expansion of the Bangladeshi Community in East London: Beyond the East End
The eastward movement of individuals of Bangladeshi origin from Tower Hamlets, likely reflecting gentrification and redevelopment patterns in this Inner London Borough. The 1998 map, on the left, shows three distinct geographical groupings of the Bangladeshi community, in (from west to east) Camden, Tower Hamlets and Upton Park. The map on the right, from 2016, shows similar spatial footprints for the first two areas, while the Upton Park has expanded considerably southwards, eastwards and northwards, encompassing Barking, Ilford and Barkingside respectively.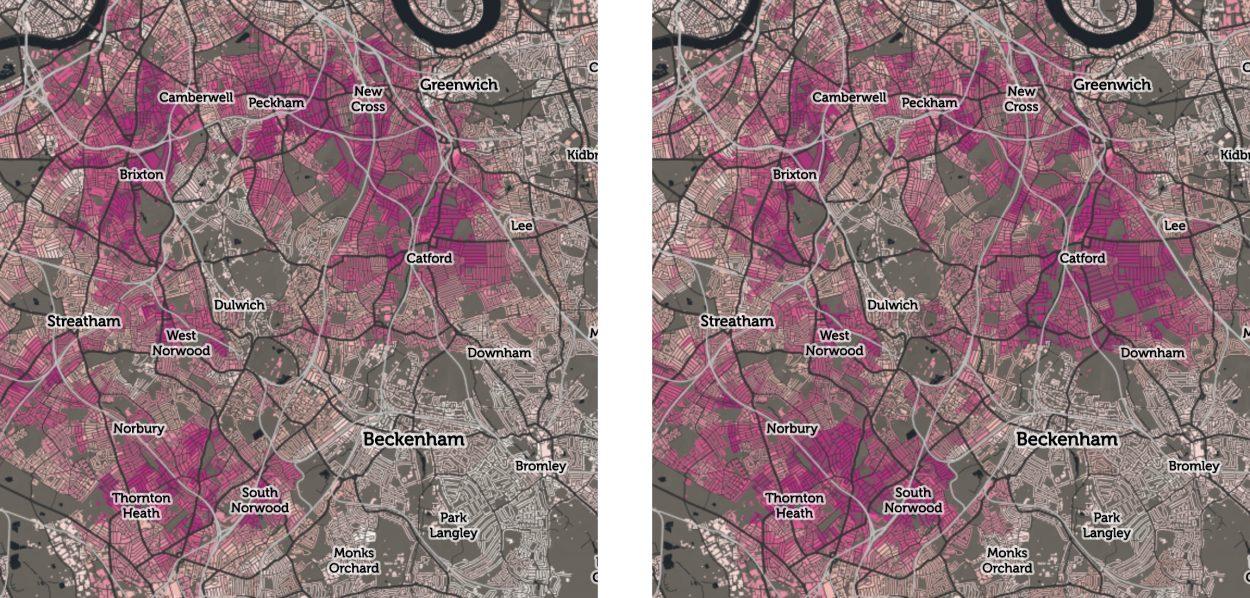 Gyrations in the movements of Black Caribbean communities in South London
The extracts above show the 1998 (left) and 2016 (right) estimated Black Caribbean population of south London. There are clear increases in the more suburban south part of the map, around South Norwood and Catford, while the Brixton and Peckham populations to the north show a slight reduction, such that the proportions in the former now exceed the latter. Taken together, these movements amount to general drift from Brixton/Peckham, to South Norwood/Catford.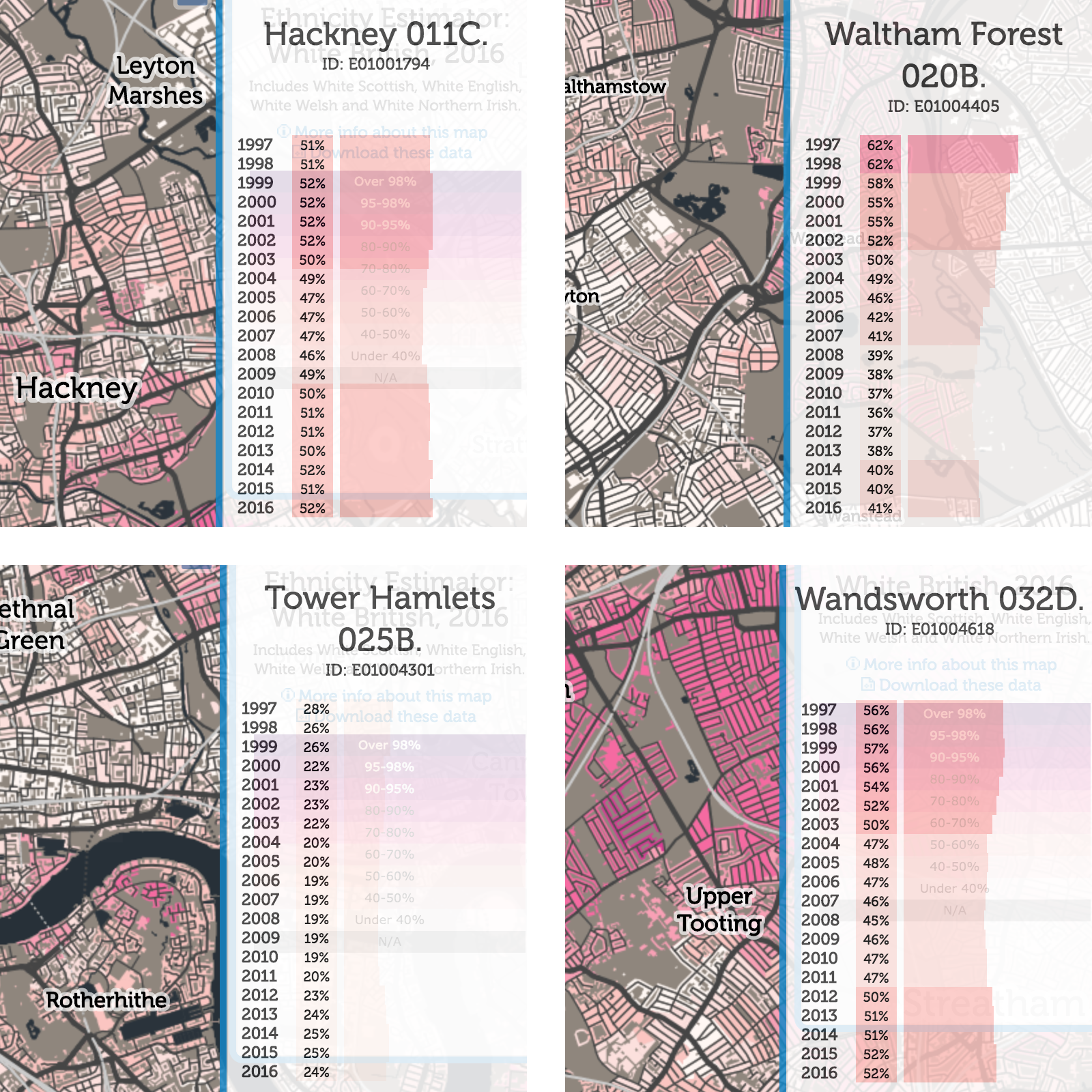 White Return in Inner-City London
The maps also reveal recent (post-2011) increases in the White British (WBR) population, particularly in parts of Walthamstow, Shadwell and Tooting. In all these locations, the interactive maps (and their time-line graphs) show gradual decreases in the WBR % from 1997 to typically around 2010 or 2011, after which a gradual increase is seen, particularly in 2017, the last year of data. The decrease will have been captured by the 2001 and 2011 censuses, but the CDRC's more recent data suggests a definite reversal in the trend since then. All three areas above were White British minority in 2010/2011, but in areas of Tooting there is now again a White British majority, while the section of Walthamstow shown is also once again approaching 50%.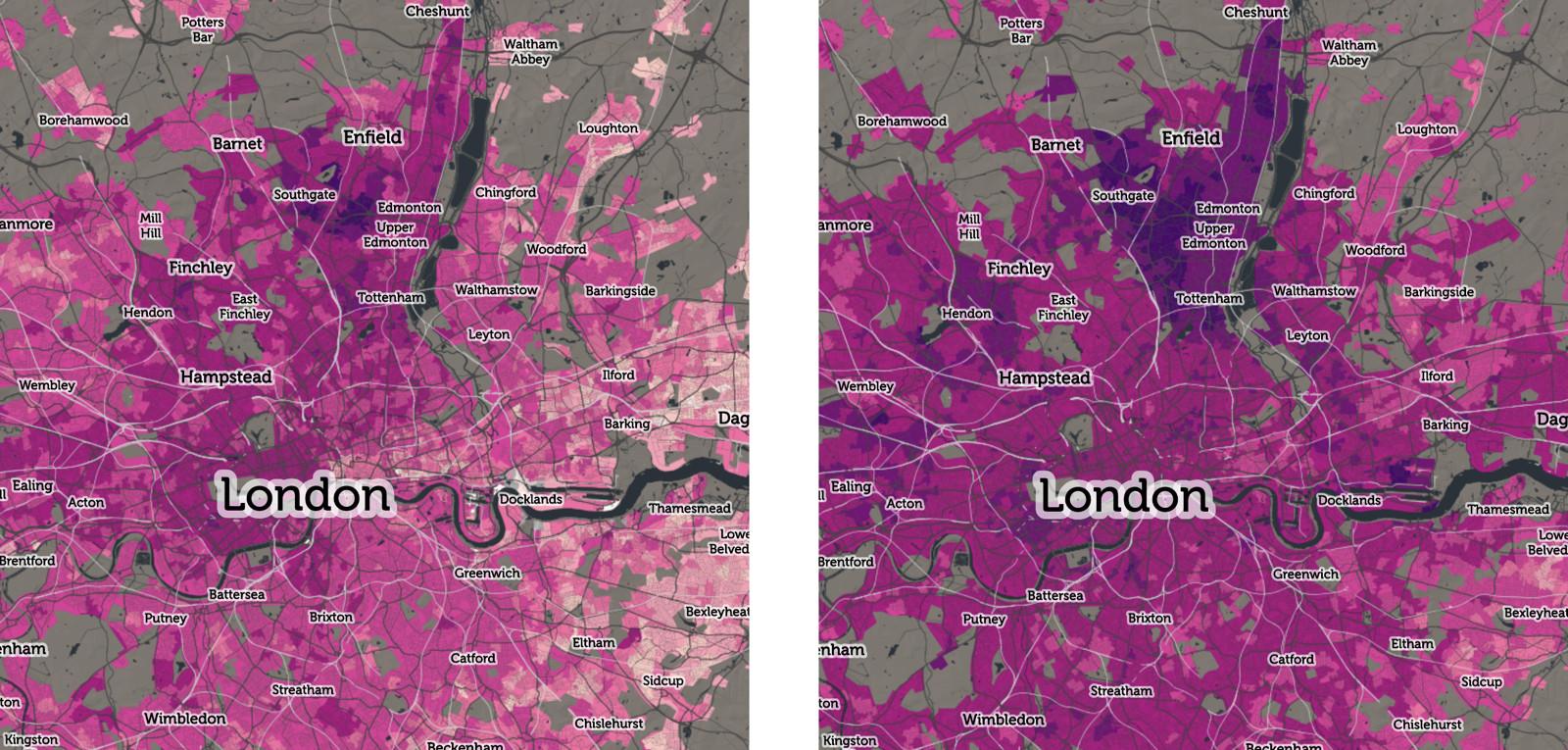 Changes in the neighbourhoods frequented by White Other groups. London has seen a considerable increase (shown as darker colours) in the proportion of the population with names identifying as White Other. Left: 1998, Right: 2016.
Changes in neighbourhood composition of White Other populations in significant part reflects changes in the composition of this group, particularly following enlargement of the European Union, including Poland (2004), Hungary (2004) and Romania (2007) in particular. The CDRC maps nevertheless make it possible to infer neighbourhood change in the years immediately following these accessions, and also return migration in each of the years following the 2008 Financial Crisis.
It is possible to view these and other changes using the dropdown menu and slider bar on CDRC Maps. Whilst these very detailed changes are fascinating in themselves, they also provide a window on other social and economic changes taking place across the Capital, including migration, social mobility and housing market dynamics.
The maps that we have produced use CDRC's Ethnicity Estimator software, which was developed in partnership with the Office for National Statistics. Interested readers can find the methodology that was used described in the PLOS One paper "Ethnicity estimation using family naming practices". If you would like to apply to access the aggregated data behind these maps for your own research please see data.cdrc.ac.uk for further information.